10 toys and gadgets for yachting holidays that you should definitely get
Elevate your boating holidays with these fun items
The end of the year is nigh, and now is the time to recharge, reflect, and reorganise for the year ahead. What better way to do so than out on a boat, surrounded by waves and spending good, quality time with friends and family? If indeed you are planning for a sea-escape, then the toys and gadgets for yachting on this list are sure to give everyone an unforgettable time.
FunAir Climbing Wall
Instead of heading to the famous rock walls at sea of this region, why not bring the wall with you? FunAir, the makers of many an ocean-going inflatable can custom design the wall specifically for any vessel. It's also easy to inflate and deflate, with the company's RapidFlate system.
FunAir Yacht Joust
All disagreements at sea can now be solved gladiatorially. We kid, of course – walking the plank is still the recommended option. All jokes aside, here's a great toy for calmer waters. The platform and the poles are inflatable, so no serious harm will befall any challenger who are bested.
Nautibuoy Voyager C-Dock
This is an inflatable floating platform that serves as the docking area for Seabobs. Anyone who has used them before know the hassle of repeatedly lifting Seabobs from the water, only to lower it back in again after 10 minutes. The C-Dock eliminates that, and will be a great addition to yachts that uses the submersible.
Hobie Mirage Eclipse Pedalboard
The Eclipse pedalboard is a great way to burn off those steaks and cocktails. Think of it as a paddleboard + elliptical trainer, with a handlebar for more precise manoeuvring.
Red Shark Board
Here's another item that combines exploration and exercise. The Red Shark Board lets you cycle on water, and it comes in three models : Enjoy, Fitness, and Race. Both the former models are inflatable for easy stowage, while the latter is made entirely out of carbon fibre.
Platypus Submersible Watercraft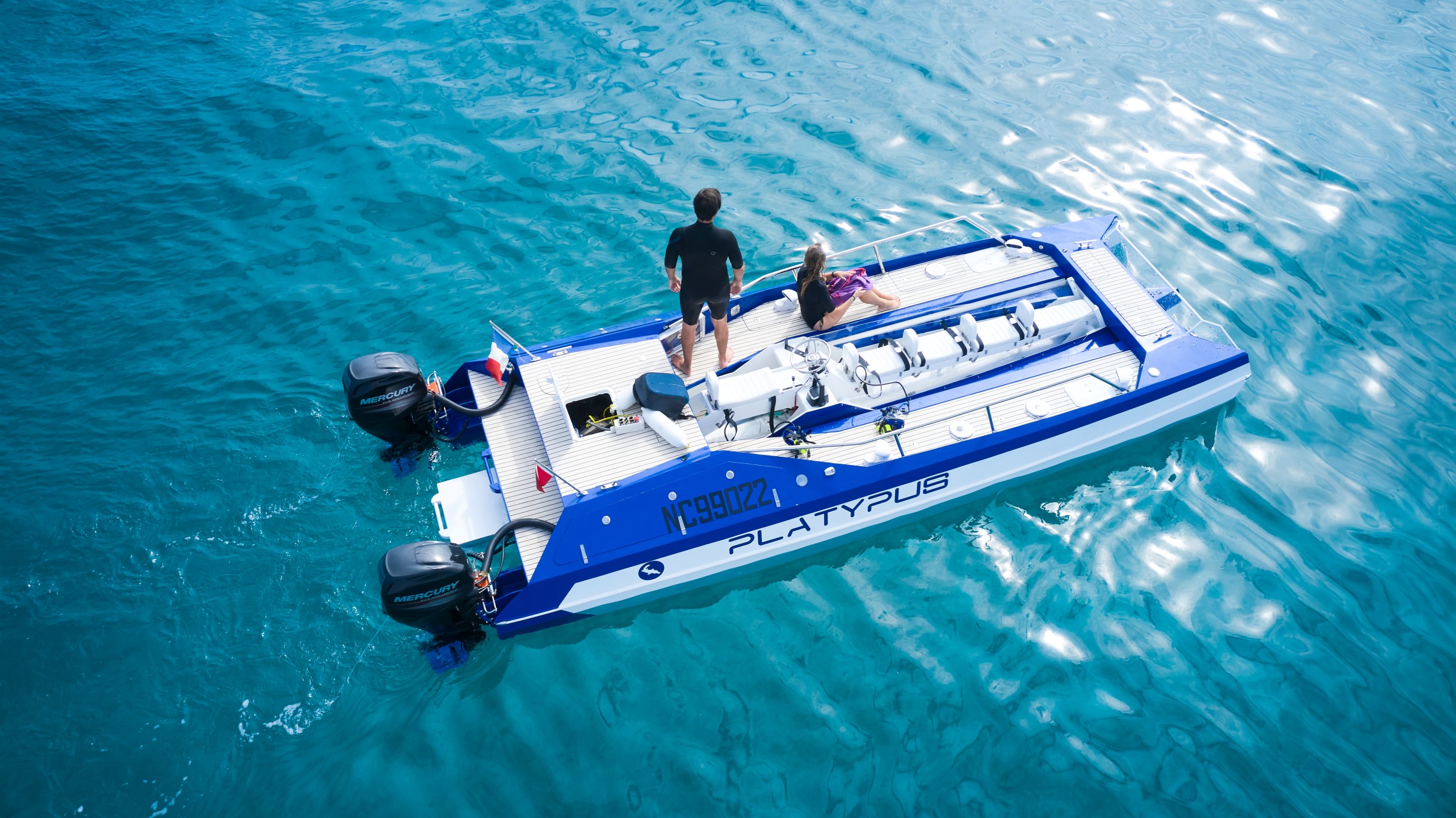 The Platypus is a neat and creative way to explore shallow waters. Explorers will sit on the central pod, which can be lowered underwater, and it is attached to two floats at the surface. This is snorkeling, reimagined. An air compressor is integrated into the floats, so explorers can breathe easily for long periods of time, and the Platypus is also powered by two electric motors.
Bixpy Jet
Maybe a purpose-built exploration submersible isn't really to your taste. Maybe you want something smaller, more versatile. The Bixpy Jet is just that thing. It is cleverly designed to be installed under other toys like kayak, canoes, and paddleboards to take over the manual labour required by providing propulsion.
Gibbs Sports Terraquad Amphibious Jeep
As its name states, this vehicle is home on both land and sea. The company says its topspeed is 80 km/h on both surfaces. If a jeep does not meet your requirements, the company also makes an amphibious jetski, and an amphibious motorcycle.
Robosea Robo-Shark
This is undoubtedly the coolest underwater drone right now. The Robo-Shark weighs in at 75kg, is 2 metres long, and has a maximum speed of 10 knots and a maximum depth of 300 metres. Its batteries will last 2 hours, and Robosea says it can be outfitted with most cameras on the market today.
Bartesian Cocktail Maker
While not strictly a gadget just for the sea, we think it will sit particularly well on watery bars where supplies are hard to come by and space limited. The Bartesian Cocktail Maker is a capsule-based cocktail machine. Four reservoirs can be filled with your favourite base spirits like rum, vodka, tequila, and gin. A capsule is then inserted (a whole host of flavours are available on their website), and you can then choose any of the reservoirs to finish the drink. The machine is still only available in the US, so pick it up (and the capsules) when you visit the country.
If you're wondering why we left out some items, it could be because we included them on our first list a couple of months back, which you can read here. As always, be safe and level-headed when using any of these toys. A few of these may be harder to get in our part of the world, but hey, when there's a will, and a Pen Marine Chandlery, there should be a way.