Check out these Superstar Yachts!
Famous yachts in movies you really should know
Like supercars, yachts have also starred on the big screen. However, unlike their four-wheeled counterparts, often these magnificent vessels are unobtainably rare and thus only the most enlightened enthusiasts will be able to name them. Check this list out, and you'll be able to count yourself in that congregation.
Oh, and of course, here is an official spoiler alert.
Planet Nine
A perfect lair for the antagonist in Christopher Nolan's latest film, Tenet.
The 73m ice class explorer was delivered in 2018, and all eyes are on her as she takes a prominent role in Christopher Nolan's latest time-travelling blockbuster, Tenet.
If you're wondering, ice class vessels are built with additional strengthening like thicker hulls to navigate through sea ice. Planet Nine has a large helipad, and elevators connect all five decks for ease of movement. She has comfortable accommodation for 12 as well.
Riva Aquariva Super
All good guys, like in Tenet, should always be in boats this stylish.
In stark contrast to the behemoth that is the Planet Nine, the tiny 33′ Riva Aquariva was the good guys' choice of water transportation, and it is a sublime choice. The scene where The Protagonist took her out to Planet Nine was actually shot in Ravello, in the cerulean waters off the Amalfi Coast in Italy.
M3 (formerly Lady M)
The superyacht that sank in The Wolf of Wall Street.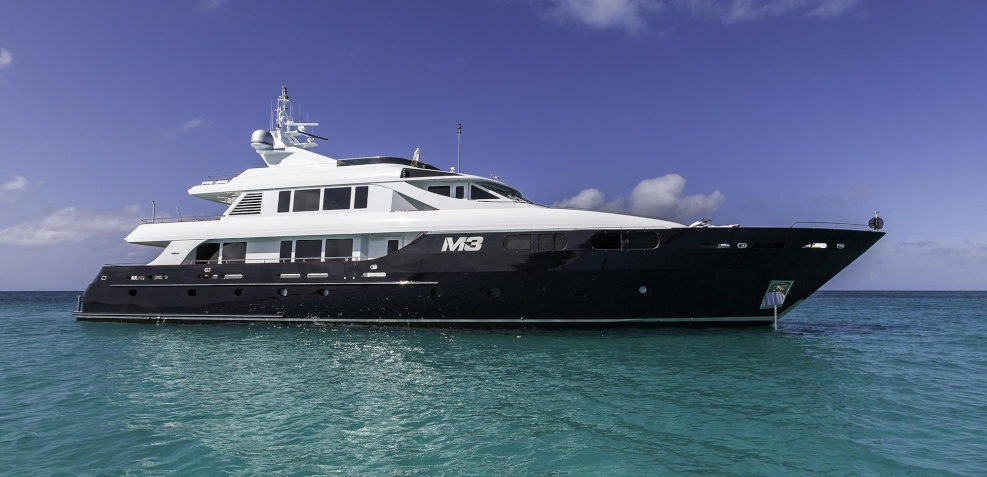 One of the most successful movies of 2013 – and still constantly talked about, albeit for nefarious reasons in Malaysia – features M3. She was formerly known as Lady M, and in the movie, she met with a tragic end on her way to Capri. The iconic scene where Leo disdainfully threw money at the authorities from the yacht was also pretty unforgettable, don't you agree?
Spirit 46
No Time to Die, Daniel Craig's final outing as the iconic spy.
The names Spirit. Spirit 46. We only got a glimpse of the 14m sailing yacht in the movie trailer, and we are eagerly anticipating the plans 007 has for her. Daniel Craig's James Bond has given us an appreciation for these beautiful and graceful sailing yachts that have appeared in every film so far, and we're glad his final outing in the role will keep this little tradition.
This is the second time Spirit Yachts has collaborated with the spy, the first of which was in Casino Royale.
Aria I (formerly Regina)
Bond's preferred transport to meet villains in Skyfall.
The 56m schooner was featured prominently in 2012's Skyfall, where she took Bond to Hashima Island to pay a very unsociable visit to the movie's villain. Med Yachts is her creator, and she was delivered in 2011.
Spirit 54
Casino Royale, where Bond found – and lost – love.
The first time Spirit Yachts collaborated with the superspy was in 2006's Casino Royale. James Bond and Vesper Lynd sailed from Montenegro to Venice in the Spirit 54, a graceful, classically modern 16m vessel. Interestingly, she was the first sailing yacht to travel up Venice's Grand Canal in 300 years as well.
Kismet
Big boat goes boom in 6 Underground.
The 95m hyperyacht is the setting for the climactic showdown between the heroes and the baddie. The protagonists won, of course, blowing up the Kismet in the process, which is a shame if you ask us. Espen Øino, one of the world's best yacht designers, designed the Kismet. 6 Underground is still available on Netflix if you want to check it out.
Sarastar
An invitation onto a superyacht leads to a Murder Mystery.
The name of the movie gives it away, really. The 60m superyacht is the setting for most of the movie. Adam Sandler and Jennifer Aniston are invited to join a billionaire on his family's yacht, and this is where the movie turns into an Agatha Christie novel. Sarastar is built by Mandomarine, whose headquarters are in Monaco. They build their ships at Cantieri Navali Campanella, a 100-year-old shipyard in Savona, Italy.
We know pop culture shows that owning and enjoying yachts are only for the rich, but in reality, boat ownership is not that out of reach. There are plenty of other yachts available here in our list, but these glamorous vessels give us something to aspire to, don't you agree? This is not definitive, as the list of yachts in movies is quite a long one. What do you think we should have included?